All the summer trail events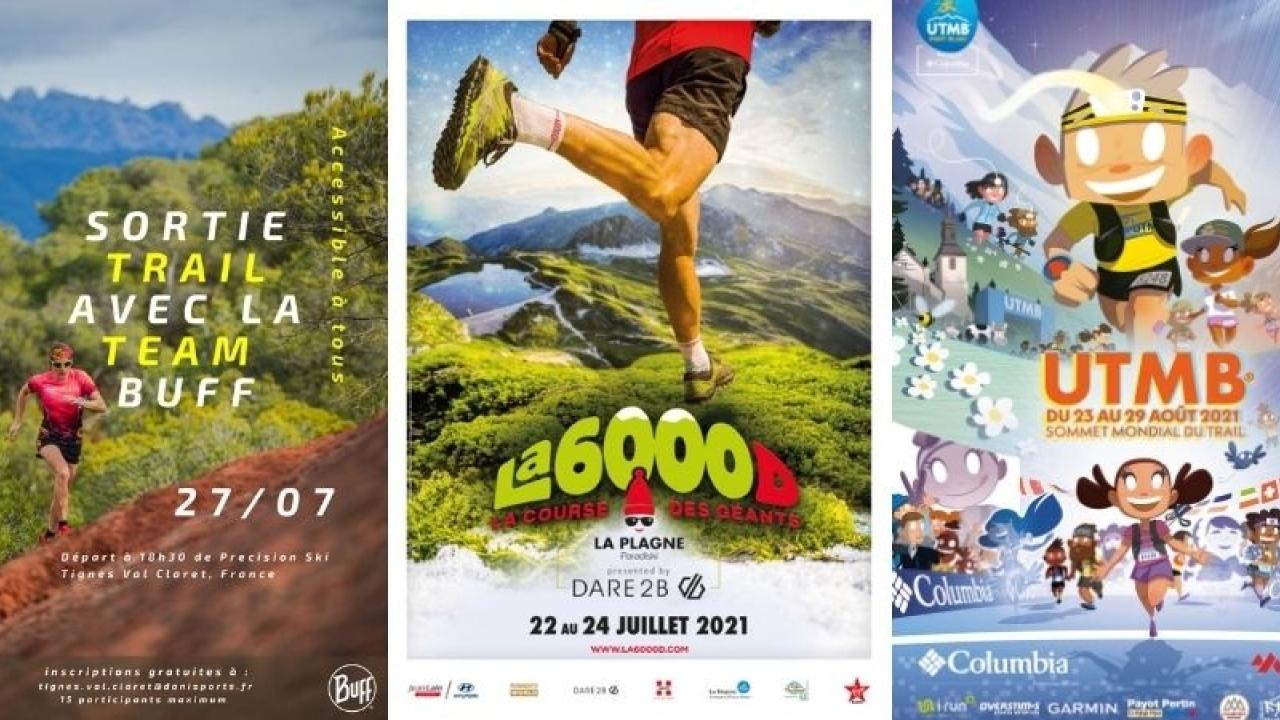 Mountain running, demanding trails, diverse landscapes - trail running welcomes both amateur and experienced runners. This natural race attracts more participants each year. Far from asphalt and noise, trail running takes you to a green paradise at the foot of the mountains, offering breathtaking panoramas.
The Most Beautiful Trails in the Alps
Trail in La Rosière
Starting from the Place des Eucherts, various routes are available:
5 km for all and for children
15 km and 800m elevation gain
22 km and 1500m elevation gain
40 km and 3000m elevation gain
You'll enjoy a breathtaking view of the Tarentaise valley and a privileged moment with Mont Pourri and Mont-Blanc. From technical trails to ridges and streams, you choose the route that suits your level. From Fort de la Redoute to Col du Petit Saint Bernard, La Rosière promises an incredible race between France and Italy!
La Plagne
A legendary race in Tarentaise, the 6000D is also known as the Course des Géants (Race of Giants). Organized for 31 years, it has become a challenge for all trail runners who participate. Starting from Aime La Plagne in the early morning, competitors face a 3400m elevation gain! From 677 to 3047 meters above sea level, this 6000D trail will take you to the Olympic Bobsleigh track and up to the Glacier de Bellecôte!
Tignes Sunset Trail
In the presence of the BUFF® team, we are fortunate to organize a guided trail run with athlete Yoann Stuck. Starting from our store in Tignes Val Claret, a 6 km route awaits you between Lac de Tignes and Lac du Chardonnet.
Tignes Trail
Throughout the weekend, various routes are offered depending on your level and endurance. From 700m to 27 km, the Tignes Trail is for the youngest and the most experienced looking to push their limits:
For the young: 700m, 1.9 km, 3.3 km. For all:
13 km - 890m elevation gain
27 km - 1770m elevation gain
44 km - 2810m elevation gain
For all nature and high-altitude running enthusiasts, you'll enjoy breathtaking landscapes on high mountain trails.
UTBM - The Summit of Trail
Head to Chamonix for the ultimate global event for trail enthusiasts. The UTMB (Ultra Trail du Mont-Blanc) is the iconic event that brings together nearly 15 different nationalities, thousands of competitors, and crosses three countries (France, Italy, and Mont-Blanc).
Trail Running Tips
The key in trail running is to have fun and not to embark on a race that is too challenging. It's essential to run at your own pace and listen to your body. Run lightly, prioritizing a trail backpack or a belt that can hold a windbreaker for bad weather, a water pouch, and snacks. Opt for technical trail shoes that can grip on the most unstable and rocky trails. Finally, after the trail run, don't underestimate the recovery period, which will help you regain your muscle strength.